Family Portraits
Living and working in Myrtle Beach has given me the opportunity to photograph some of the most beautiful scenery on the east coast.  Beautiful beaches, luxury resorts and classic southern plantations offer the most stunning natural backdrops for your family photos.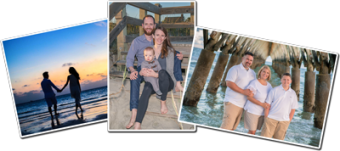 We offer a range of photo packages, any of which can be fully customized to meet your exact needs. Take a look at some of our basic package pricing below, and don't forget to bundle your print package for even greater savings! If you don't see a package that works for you, send us a message and let us know what you need, and we can make it happen!
FAMILY PORTRAIT PACKAGES
PACKAGE A
90 MINUTE SESSION (25 DIGITAL DOWNLOADS)
$299
PACKAGE B
60 MINUTE SESSION (20 DIGITAL DOWNLOADS)
$249
PACKAGE C
30 MINUTE SESSION (15 DIGITAL DOWNLOADS)
$199
PACKAGE D
20 MINUTE SESSION* (10 DIGITAL DOWNLOADS)
$99
*Not available at all times.  Contact for availability. 
Your family portraits will be delivered to you through our private online gallery where you can order prints, share your gallery with friends and family, post to social media and more!  All packages include your high-resolution photo files at no extra charge!  Take a look at some of our favorite family photos from this season below.