Headshots
In today's world, everyone needs a great looking headshot. It could be for your social media profile, business cards, or website. Whatever your corporate photography needs are, we are here for you.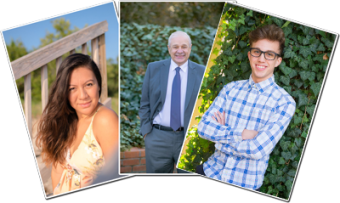 If you are looking for something to really show off your local coastal style, we can take your photos at any one of the prime scenic locations around the area, or if a more traditional look is for you, then consider having us come to you with our portable studio! We can set up right in your office or conference room with lighting, backdrops, and everything else we need to create studio quality headshots right from your own space. Either way, within 72 hours you will have access to your own private online digital gallery. From there you can download digitals or order prints, canvas wraps, and more, and have them delivered right to your doorstep. We work with a nationally recognized photo lab to give you a very fast product turnaround and a 100% quality satisfaction guarantee! Take a look at our packages below and decide what is right for you.
HEADSHOT PACKAGES
ELITE
20 Photos / 2 Outfits / 2 Backdrops
$299
EXECUTIVE
15 Photos / 2 Outfits / 1 Backdrop
$250
STANDARD
10 Photos / 1 Outfit / 1 Backdrop
$199
PACKAGE ADD-ON
*IMAGE MUST BE PROVIDED BY CLIENT
YOUR HEADSHOT IS YOUR CALLING CARD.  THE WAY YOU LOOK IN YOUR PHOTO MEANS EVERYTHING WHEN YOU ONLY GET ONE CHANCE FOR A FIRST IMPRESSION.  LET'S SHOW OFF THE BEST YOU WITH SOME UPDATED HEADSHOTS TODAY!!
SCROLL DOWN TO SEE WHAT YOUR UNIQUE HEADSHOTS COULD LOOK LIKE…